Project H.E.R. (Help. Enlightenment. Resources.) is a comprehensive cancer services program available to all cancer survivors in Benton, Linn, and Lincoln counties. The program provides awareness, education, and support for all patients from the time of their cancer diagnosis through survivorship. Your Project H.E.R. team is available to support you in many ways. Your team includes a nurse navigator, outreach coordinator, lay mentor, and volunteers who often are cancer survivors themselves. This team works closely with your doctors.
Thanks to the financial assistance of The Corvallis Clinic, The Corvallis Clinic Foundation, grants, and private donations, all services Project H.E.R. provides are free of charge.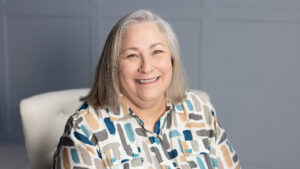 Help
Our Project H.E.R. nurse navigator, Kathy Nepper, RN, can help you through the maze of healthcare resources and provide you with important cancer education. She is a registered nurse who can answer many questions about treatment methods, surgery, time frames, and side effects. She will also help you understand the various medical doctors you will meet and stay in touch with you throughout treatment. She is available to you and your family for as long as needed.
Patients can contact our Project H.E.R. nurse directly or be referred by a healthcare professional. She works closely with all area physicians. Your physician will discuss the time frame, and the Project H.E.R. nurse will help you understand your options. Through learning, you will regain a sense of control in your life and make informed decisions with your healthcare team.
Enlightenment
Project H.E.R. provides survivor mentors who are uniquely qualified to offer insight to newly diagnosed breast cancer patients. They are volunteers who serve patients free of charge throughout Linn, Benton, and Lincoln counties. They are trained in supportive relationship skills and confidentiality. Survivorship makes our Project H.E.R. mentors uniquely qualified to help you maneuver through the emotional impact and stress of treatment and provide you with support and guidance for survivorship. This peer support from survivors may be the most powerful therapy a patient with cancer initially receives.
To request to speak with a survivor or to learn more about volunteering for Project H.E.R., please call us at 541-768-2375.
Resources
Project H.E.R. offers the community and cancer patients an ever-expanding array of educational, inspirational, and supportive resources, among which are:
Education Day
Community Support Groups
Patient Navigation
Connecting to Resources
Survivor Advocacy
In the News
Thank you for supporting cancer patients
Contact Project H.E.R.
The Corvallis Clinic Aumann Building
444 NW Elks. Drive
Corvallis, OR 97330
Kathy Nepper, RN Nurse Navigator
541-768-2376
Kathy.Nepper@corvallis-clinic.com