The James R. Naibert, MD, Healthcare Scholarships were established by his patients in honor of his many years of medical practice and helping those in our community. This scholarship fund exemplifies Dr. Naibert's deep desire to help the next generation of healthcare professionals.
He worked as a family physician with The Corvallis Clinic from 1995 to 2013, where he practiced at both the Waverly Drive Clinic and the Immediate Care Center.
Scholarship Amount
$2500
Award
Three scholarships are awarded each year.
Application Requirements
College-level sophomore or higher in standing (includes community college students)
Must have one of the following:

Graduated from either a Linn or Benton County high school in Oregon
Resided in either Linn or Benton County, Oregon, for the past three years while working in healthcare with direct patient care
Deadline
May 31, 2023
How to Apply
Scholarship submissions should be e-mailed to Foundation@Corvallis-Clinic.com in two PDF files.
The first PDF File should include the following in order:
Personal essay
Three letters of recommendation
The second PDF File should contain:
Current Recipients
---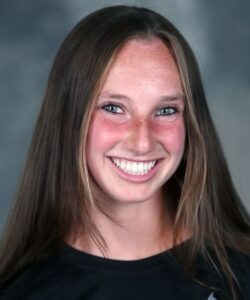 Sarah Forrester
After I graduate from Linfield (in biochemistry), I plan to enroll in the Oregon State University College of Pharmacy dual Pharm.D./Ph.D. program. Ultimately, I would like to become a pharmacist and practice in a hospital setting. I always knew that I wanted to pursue a profession in the healthcare field; I love chemistry and I am very interested in biochemical pathways and processes. I am especially drawn to pharmacy because of the patient interaction and communication components of the profession. During high school, I tutored elementary and middle school students and started teaching tennis. Through my various experiences, one thing became clear: I thrive off human interaction and helping others. My innate communication skills and ability to form meaningful connections with my students allowed me to find fulfillment in the work I was doing, whether it was at a desk or on the tennis court. My experience working in a pharmacy setting over the last year has further solidified my interest in pharmacy. It has become apparent that patient interaction is critical– patient interaction can make the difference between treatment success and treatment failure, all based on the patient's understanding and interpretations of the pharmacist's directions. As a pharmacist, I will be able to apply my expertise in subjects of great interest and translate my communication and interpersonal skills to give my patients the best care, treatment, and experience possible.
---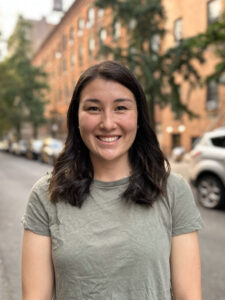 Sarah Huang
Although my pursuit of a graduate education in healthcare has taken me across the country, as I reflect on my journey thus far, Corvallis is always where I consider my career to have started. Corvallis was not only the place where I was born and raised but also where I was exposed to physical therapy for the first time. After going through a few of my own injuries growing up, I found myself constantly being introduced to various members of the medical team. Through these individuals, I saw by example the high-quality care and comparison I strive to provide for my own patients. After graduation, I plan to continue to investigate, participate and educate patients in the prevention of injuries for our youth, specifically aiming to reduce the amount of knee injuries in our adolescent female athletes. Within three years of earning my doctorate of physical therapy, I also hope to obtain the title of pediatric clinical specialist. While I might not know where my career will take me next, I know that I will work to continue to give back in every community that I am a part of by providing the highest quality of care that I can through both my personal and professional opportunities.
---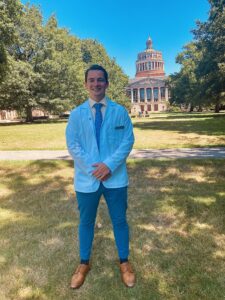 Benjamin Hauser
As medical school began in earnest, I dove into the rigorous "Human, Structure, and Function" class. During the rite of passage of cadaveric dissections, I fell in love with studying the form of the human body. With an urge to explore cardiovascular surgery beginning to develop, I spent time in the pediatric cardiac ICU and attended the weekly surgical meetings for the Upstate New York Pediatric Cardiology Consortium. With the desire to eventually be part of the advancement of cardiac surgery, I am currently working with the pediatric cardiac surgery team at URMC to study the outcomes of children following surgical repair of coarctation (a pathological narrowing of the aorta). My bioethics capstone project will be an academic paper exploring the decision-making of parents and medical teams for babies with hypoplastic left heart syndrome and a concurrent genetic condition such as Edwards Syndrome, Turner Syndrome, and Down Syndrome. I also plan to be part of the elective medical education pathway (MEP), an opportunity for medical students to prepare for a career in academic medicine. As part of the requirements for MEP, during my third and fourth years of medical school, I will be giving lectures on cardiac embryology to first-year medical students. I do not know whether I have the aptitude and skills required to become a pediatric cardiac surgeon, but I am working as hard as possible to achieve this goal. From my experiences thus far in medical school, I believe that it is a specialty that has a particularly tremendous impact on infants with critical health issues and the family of the patient. I hope my passion for cardiac surgery can lead me to eventually become a physician that works on a team that positively influences the world through each heart we repair, giving a renewed chance for a child to live their life with good health.
---